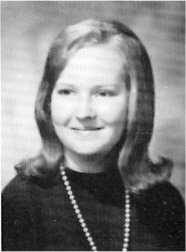 Vera Ellen (Whitten) Springer

EULESS - Vera Ellen Springer, a homemaker, died Wednesday at her Euless home.  She was 39.

Funeral will be at 10 a.m. Saturday at First United Methodist Church of Watauga, where she was a soloist and a member of the choir.  Burial will be at 1 p.m. in Rose Hill cemetery in Cleburne.

Mrs. Springer was born in Fort Worth and had lived in Tarrant County all her life.

She was a soloist for Schola Cantorum of Texas during the late 1970's, former soloist for Polytechnic United Methodist Church and member of Texas Wesleyan University Oratorio Chorus and the Wesleyan Singers.

Mrs. Springer was a member of the Metroplex Doll Club, Madame Alexander Doll Club and Sigma Alpha Iota Fraternity.

She attended Texas Wesleyan University for several years.

Survivors:  Husband, Rick Springer of Euless; Mother, Ella Whitten of Fort Worth; brother, DeLacy Whitten, Jr. of Everman; and sister Joy Daughtery of Edgecliff Village.

Vera Ellen Whitten

March 12, 1952 - March 20, 1991