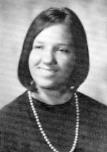 Veronica Cruz

Today are hearts are filled with joy and sadness as Patty left this earth yesterday night. Patty your sweetness, and your craziness will be so missed!!

Patty we are sad your no longer with us, but rejoice in the fact that you are with the Lord! I can just imagine e your smile when you opened your eyes to Jesus and your loved ones welcoming you home.

Patty you will be missed!!

Love You Guera Loca

HE WILL WIPE AWAY EVERY TEAR FROM THEIR EYES, AND DEATH SHALL BE NO MORE. THERE WILL NO LONGER BE ANY MOURNING, CRYING OR PAIN. FOR THE OLD ORDER OF THINGS HAVE PASSED AWAY. REV 21:4

Karen Taylor

I was thinking of Patty today and checked her page. I found out there that she passed away on November 29. This sad news came from a post by her friend Veronica Cruz. I'm glad that I got to spend a bit of time with her at our last reunion and give her a big hug. I think all of us here have greatly admired her courage and humor as she struggled with health issues. Rest in peace, Patty...

Patricia Martindale Moon

November 21, 1951 - November 29, 2016