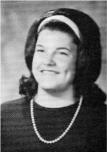 Mary Melinda Allen Moore went to be with Jesus, around 2:00 a.m. 11/22/2012, may God give Her family peace knowing She is dancing with Jesus for Thanksgiving !!! Many of you will know Melinda from grooming dogs for many years at The Animal House, she was a Christian and a member of Rose Heights.

Mrs. Moore was born July 19, 1952, in Fort Worth, TX.

She passed away in Tyler, TX Nov. 22, 2012.

She is survived by a son, Jacob Seth and Sarah York of Lovelady; daughters, Andrea Lynn and Clay Baker, Shannon Ashley and Ryan Thigpen and Mary Kristin and Matthew Weems, all of Tyler; brother, David Lockett Allen of Fort Worth; nephew, Christopher Lockett Allen of Fort Worth; and nine grandchildren.

Memorial services for Mary Melinda Moore, 60, of Tyler will be Saturday, Dec. 1, at 11 a.m. with visitation from 10 to 10:45 a.m. at Rose Heights Church, 2120 Old Omen Road, Tyler, 75701.

In lieu of flowers, memorials may be made to the East Texas Angel Network or the American Cancer Society .

Published in Tyler Morning Telegraph on November 28, 2012

Mary Melinda Allen Moore

July 19, 1952 - November 22, 2012