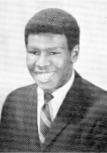 Flonzell Burrell, a cargo handler for American Airlines, died Saturday at a Fort Worth hospital. He was 42.

Funeral will be at 2 p.m. Wednesday at Calvary Cathederal Church, where he was a member. Burial will be in Cedar Hill Memorial Park.

Wake will be from 8:15 to 9:15 tonight at Gregory W. Spencer Funeral Directors.

Mr. Burrell was born in Teague and had lived in Fort Worth most of his life. He was a 1970 graduate of Paschal High School and had attended Tarrant County Junior College.

Survivors: Wife of seven years, Janice Holley Burrell of Fort Worth; son, Jason Burrell of Fort Worth; three daughters, Tomeka Garner, Keriah Burrell and Moriah Burrell, all of Fort Worth; parents, William and Laverne Burrell of Fort Worth; two brothers, Lindell Burrell of Fort Worth and Duane Burrell of Spring; sister, Diane Hampton of Fort Worth; and one grandchild.

Published in the Fort Worth Star-Telegram (TX) Date: May 31, 1994

Flonzell Lorrell Burrell

11/19/1951 - 5/28/1994